CRM CASE STUDY
A CRM for Services (OnDemand Co-working spaces)
GoFloaters empowers teams to work from anywhere with Bigin
About GoFloaters
GoFloaters is a platform that helps early-stage startup teams, freelancers, and individuals find work and meeting spaces to book instantly. It provides offices for a day and meeting spaces by the hour across 14 locations in India on a pay-as-you-use basis, covering major entrepreneurial hubs including Chennai, Bangalore, Mumbai, Hyderabad and Tier 2 cities like Coimbatore, Trichy and Madurai.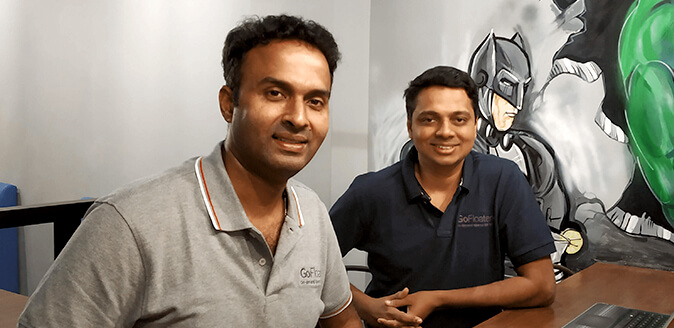 GoFloaters believes employees can be productive from wherever they are, particularly since many offices have now become virtual. They also believe that co-working spaces play a huge role in this transformation as they give employees a professional setting, which can be hugely beneficial for some. Staying true to their vision, GoFloaters is a completely remote company with its two co-founders working in Dallas, Texas, USA, and Chennai, Tamil Nadu, India respectively.
The Challenges
After the on-set of COVID-19 pandemic, GoFloaters saw a sharp increase in requests from companies who wanted to outsource their excess seating capacity to be turned into co-working spaces. For managing this B2B partnership side of the business, Shyam Sundar, co-founder and CEO, and his team were looking for a light-weight CRM solution to manage their entire supply pipeline.
Previously, they were managing their supply pipeline with Asana and Google Sheets. However, as the demand picked up and the volume of records increased, the limitations in those tools became very apparent and they often found they were spending more time on manual data entry than actual work.
"We were running our operations using Asana and we were actively exploring other project management solutions, as well. At one point, the boards were getting complicated once we started to add more records. We even turned to Google Sheets to manage our supply pipeline. Though these tools were temporarily satisfying our requirements, they weren't flexible enough to meet our needs over a longer period of time," Ramanand Boddu, Head of CX and business development said.
Introducing Bigin
During their evaluation process for a CRM solution, GoFloaters tried a few other vendors, but it didn't meet their requirements. Coincidentally, Bigin had just been launched, so Shyam suggested to Ramanand that they consider it. Ramanand was impressed with what he saw, and the overall look of things prompted him to explore more in detail.
According to Ramanand, Bigin was straightforward and easy to use, and only ever took a few seconds for him to get to any task or record within Bigin and act on it. The migration process was also easy, which allowed his team to get started from day one.
The benefits: Double duty with Zoho CRM and Bigin
As a Zoho One customer, GoFloaters uses both Zoho CRM and Bigin to manage their overall operations. On one side, Zoho CRM covers their entire end-to-end customer process, while Bigin covers the supply side of things. Apart from Bigin and Zoho CRM, GoFloaters also currently uses more than 20 different apps in Zoho One including Zoho Social, Flow, and Marketing Automation.
Web forms to collect leads
GoFloaters uses Bigin web forms to collect leads on their website and automatically add them as contacts. With Bigin's unified contact view, they get a complete picture of all incoming leads in one place. The acknowledgment emails which get triggered whenever a contact information is submitted through their website allows Ramanand and team to stay on top of the new opportunities. They've also set up workflow emails that are triggered when a deal is successfully closed so everyone can celebrate the win together.
Making use of the pipeline-centric view
Bigin's option for creating multiple pipelines and customizing pipeline stages has helped GoFloaters visualize their internal process. Shyam was able to bring his offline process into Bigin within a matter of minutes. As GoFloaters started to grow, they started receiving more inbound requests through calls, emails, and chats. All this data from multiple sources proved to be too cumbersome for the remote team to handle and they struggled to see the status of each inbound request. The hand-offs between multiple teams were a major concern, which is where Bigin's pipeline-focused system proved to be a massive benefit.
With the Bigin web form automation set up, all incoming requests are now routed through web forms so they follow a standard procedure and status tracking is much easier within and across teams.
Data administration made easier
With all their data centralized in Bigin, data re-entry and duplication became a thing of the past. They can now easily search for any data, with the availability of filters and custom views. Custom fields in Bigin also allowed them to organize their data based on the nature of their business process. Being a remote team, it was also easy to track deal updates without having to check on everyone in the team individually.
Dashboards for effective management
One of Ramanand's favorite features in Bigin is the dashboards. He can now easily track details such as the number of new contacts, number of leads based on stage, and number of deals based on city, all in one place. This desire for easy data capture and analysis was one of the major reasons why GoFloaters decided to move away from tools such as Asana and Sheets, so they're happy to see that goal accomplished with Bigin.
A CRM system truly built for the gig economy
As a startup, GoFloaters uses a lot of flexible talent, ranging from freelancers to college interns and part-time employees. Bigin's simplicity and ease of use has been a major differentiator in effectively onboarding such a wide variety of staff.
"We wanted a tool that made it easy enough to get someone on board quickly. A substantial amount of our time and the intern's time would be wasted if we needed to teach them how to use the tool considering the limited amount of time they spend with the company. We were evaluating other tools, but Bigin's pipeline view, the simplicity of the whole process, easy actions such as drag-and-drop deal movements, and simple-yet-effective workflows made us believe that this is the right tool for us," Shyam Sundar, Co-founder and CEO, GoFloaters.
Looking forward
Shyam and team are especially appreciative of Zoho's vision in building an exclusive CRM solution for a specific audience that usually doesn't require the complete feature set of a full-fledged CRM.
"Very few companies disrupt themselves. They don't think about bringing an alternative solution to something that they already built and is successful. But Zoho took this disruptive path in bringing in a new lightweight CRM solution besides Zoho CRM, and it takes a lot of courage to disrupt your own product line. Bigin is certainly a happy find for us." Shyam said.
GoFloaters looks forward to continuing to grow with Bigin there to support them on the way.